Welcome to Apple Blossoms Child Center Threes Program. Children at this age are focusing on the recognition of letters, shapes, colors, and numbers. They have increased their vocabulary and are now working on sentence structure and content. Since your child has been growing and gaining strength, his/her fine motor and large muscle coordination has improved which allows for greater manipulation of his/her environment and body. Therefore, your child is more able to toilet and dress independently. The classroom environment reflects this growth, and the staff members responsible for your child are well aware of the importance of healthy and confident development.
The teachers of this program are aware of your child's need to be part of a group and the importance of confidently interacting with their peers. We assist the children so that they can learn how to do this effectively. They now can understand rules and consequences, as well as demand limits and expectations. They aim to please adults and imitate or model them. The teacher in this room sets up an environment which has lots of activities to engage and challenge them as they interact with others. These activities involve art, science, math, dramatic play, discovery and building. These learning centers are made to challenge your child while teaching them to succeed. Your child needs the reassurance that they are capable problem solvers, and that we are here to help and guide them.
Children at this age are also learning how to sit and be focused for longer periods of time. Staff members take the time to read books, poems and finger plays, tell flannel board stories, sing songs, and engage children in conversation. Since this age tends to be very physical, we encourage them to communicate with language. The phrase "we use our words and not our hands" is frequently used.
We cannot guide your child's development without your help and support. The consistency of rules and demands between school and home is very important, and to achieve this consistency we need frequent communication between you and the staff. We will keep you up to date on the occurrences in your child's classroom and work on any challenges that you may have at home. To do this, there must be a positively supportive teacher/parent relationship with respect and trust. We hope to set up a concrete sensory environment to meet your three year old's social, emotional, physical, and cognitive needs.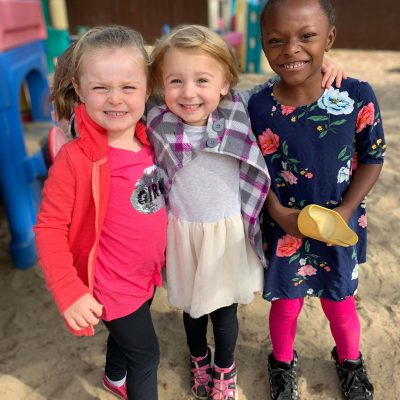 We Tailor each program to the unique needs and characteristics of your Threenager 🙂